CHARON Virtualisation Solutions
CHARON Legacy System Emulation Solutions
Companies still rely on mission-critical applications running on their legacy VAX, Alpha, HP 3000 and SunSPARC systems. As time goes on, the maintenance costs for these systems go up, and due to their age, reliability declines. Further, these systems introduce risk to your business as they don't fit within modern disaster recovery paradigms and are at risk of data loss in the case of an outage. But full migration is an expensive and risky proposition for these applications.
That's where bcconnect & Stromasys comes in. With our Cross-Platform Server Virtualization solutions, you simply swap out the aging hardware with a virtualized environment and move the software stack to increase performance, lower cost and reduce risk – all at once, and in a matter of days.
There is no expensive migration process, no software re-engineering or conversion, no training for system managers or users required, and no painful conversion of normal business practices.
The Tru64, VMS, MPE and Solaris operating systems remain the same. The applications continue to run unchanged on Windows or Linux. Business processes are kept intact.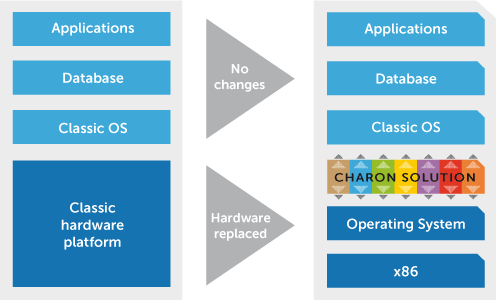 Our cross-platform virtualization solutions let companies protect & extend past investments in expensive enterprise software applications, while lowering hardware maintenance costs and reducing the risk of unplanned downtime.
Lower cost – Not only are these solutions lower in cost than full migration, but they are often less than the cost of a single year's support of the legacy hardware. At bcconnect, we know our customers work within tight budgets. We prioritize cost-efficiency so your money can go further.
Improve performance – Our solutions run on modern architecture, bringing your applications into the 21st century. Customers marvel at the dramatic speed improvements when running commands on CHARON compared to the original hardware – accomplishing tasks in a fraction of the time!
Reduce risk – We know that downtime is not an option for your mission-critical systems. By removing the aging hardware from the equation, CHARON solutions eliminate the risk of unplanned downtime.
Save energy – Reduce your organization's environmental footprint by trading out your legacy hardware and replacing it with CHARON solutions, which run on industry standard servers. The substantial reduction in power usage decreases your company's environmental impact – not to mention the utility bill.
Protect investment – Extend the life cycle of your critical applications. The legacy hardware may be end-of-life, but the applications running on that hardware are not. With bcconnect & Stromasys, those applications will continue to run, unchanged, on a modern platform – thus ensuring business continuity.
latest testimonial
"Our employees were enthusiastic about jobs that used to run eight hours now being done in ten minutes."
Olivier Sauter, IT Manager at Kraus & Naimer
Useful Links